Visualizzazione Contenuto Web
Visualizzazione Contenuto Web
What can you do with Virtual IMAP Server?
Virtual IMAP exports Liferay Data Media Library through (MS Outlook or Mozilla Thunderbird) using IMAP protocol. IMAP protocol permit's you viewing and managing Liferay Document & Media Library folders as mail folder through mail client. This gives you the ability to share email items with other users and access Liferay documents with a familiar and intuitive tool.
How to use Virtual IMAP Server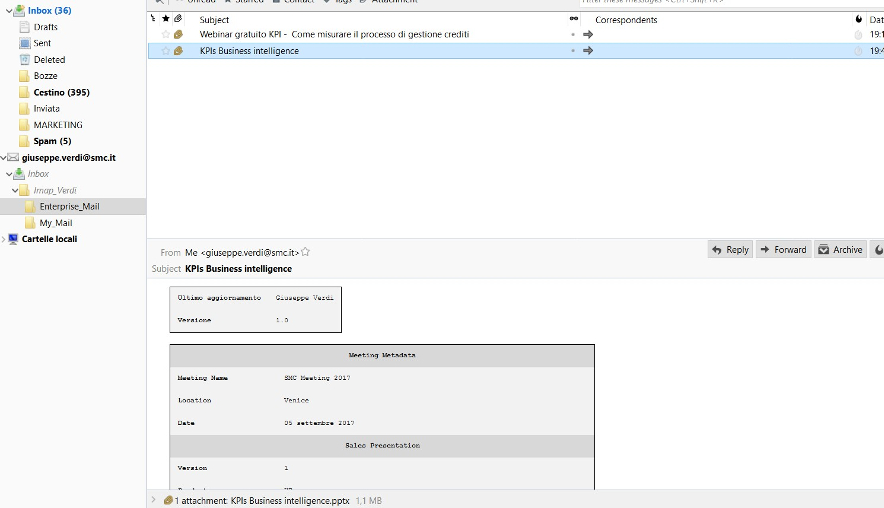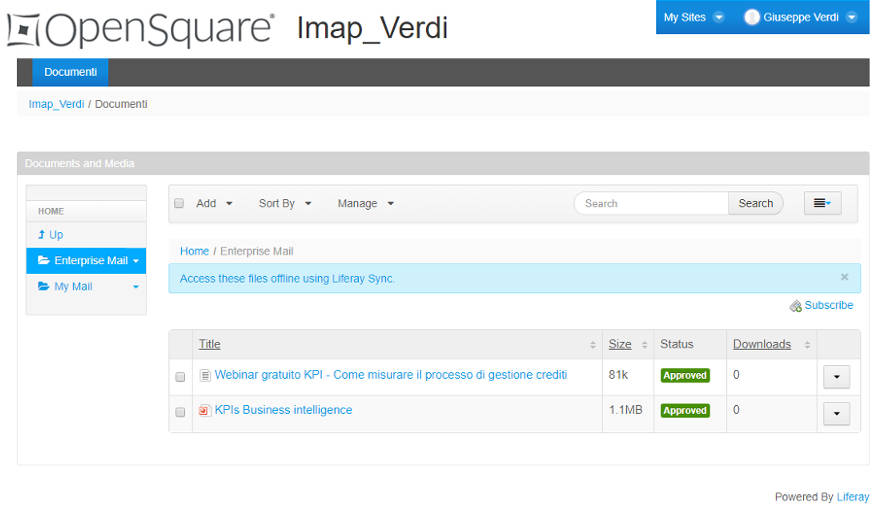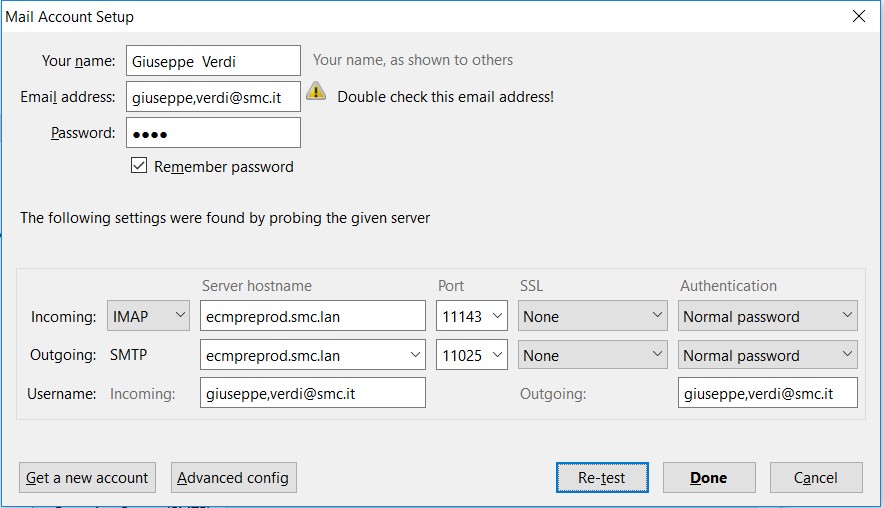 Details
Through email client, end user can subscribe the folders inside Liferay Document & Media Library ( all or partial ). Of course the user could access only inside the folder where Liferay user is enable to access.
The first opportunity offered by Virtual IMAP server is to copy your own mail within one of these Liferay folders basically throught a drag & drop for example.
This action creates a simple document inside Document & Media Library in the same folder where the use copied the email.
Scenarios and client limitations
Copies, Moving, deleting of the documents are regulated by Liferay user permissions
Documents Media Library folders cannot be deleted
Client performance ( usually folder refresh ) are related with the number of folder and documents inside Liferay
If you want forward a document stored inside Liferay, by default mail client propose Virtual IMAP server or IMAP account. The user can change this sender with own mail account
If after the user modify files ( with email client or directly through DML) the document isn't updated, could be useful re-subscribe imap folder
Microsoft Outlook® specifications
Moving a normal documento inside Liferay Data Media Library causes the transormation of the documents in email
Normal mail deletion cannot be performed with Microsoft Outlook because it uses "Trash Folder". The user must delete a document using Shift+Del
We suggest execute file delete oand move inside Liferay Document & Media Library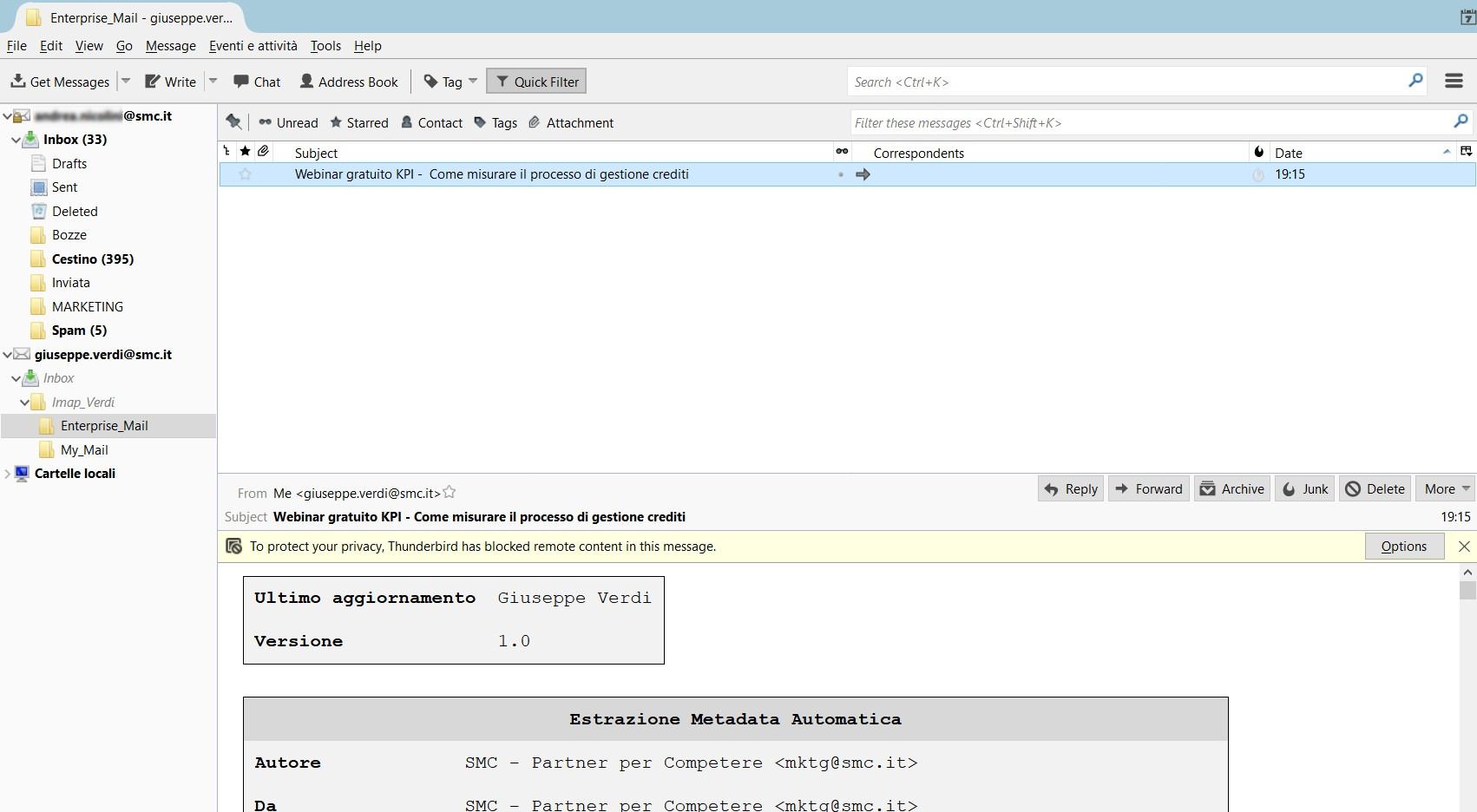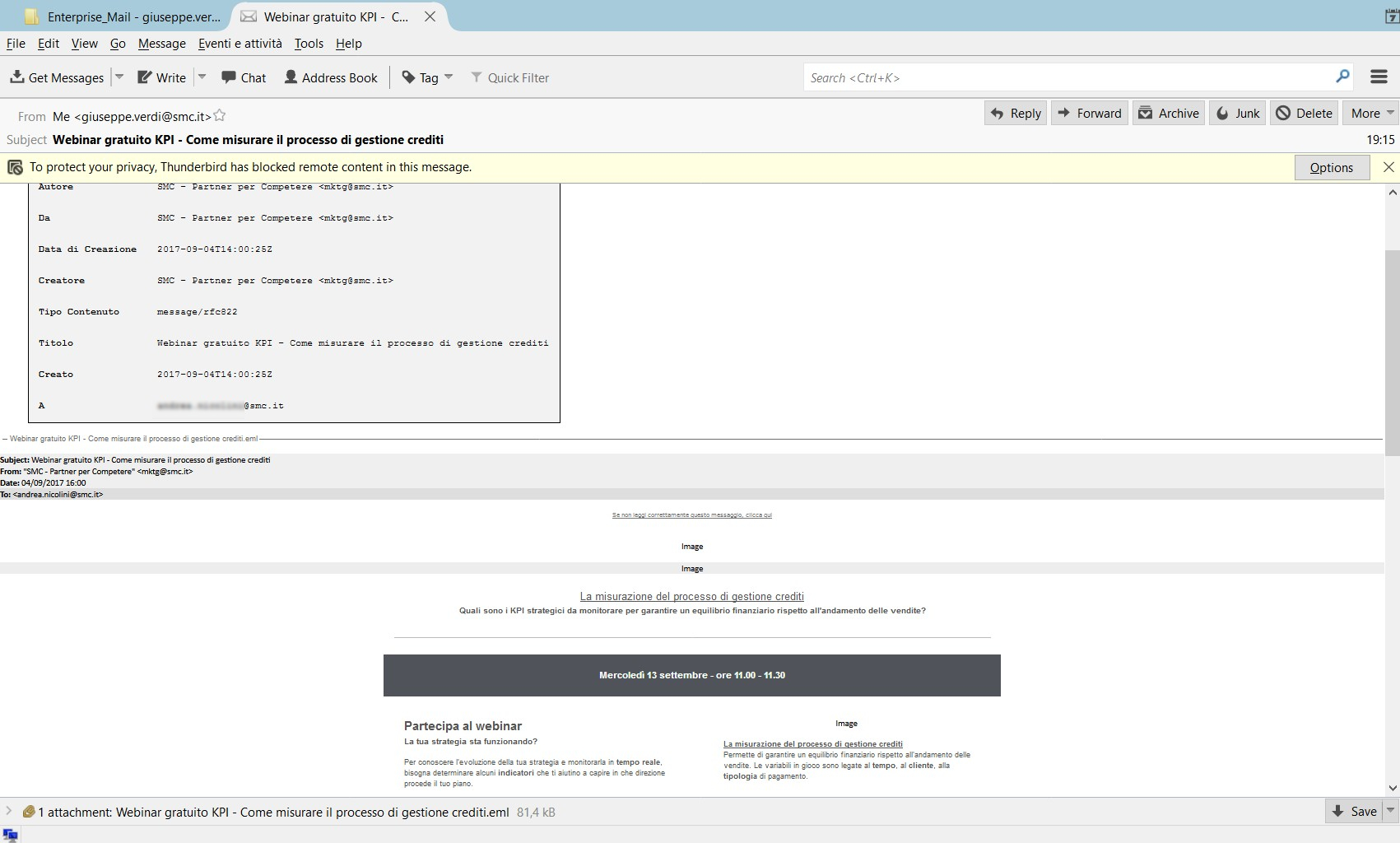 Inside Liferay, the document is identified using email proprieties as metadata. Document content, is the original is the original mail file (preview is visibile inside the APP) and attached file are linked to its.
The email viewed through the email client, will be enrich with document mediadata of the Document & Media Library. Original email will be displayed as attach.
Note: About the email transfering, we suggest of use "Copy…" command in order to prevent email corruption in case the client should have a temporary disconnection from Liferay Server.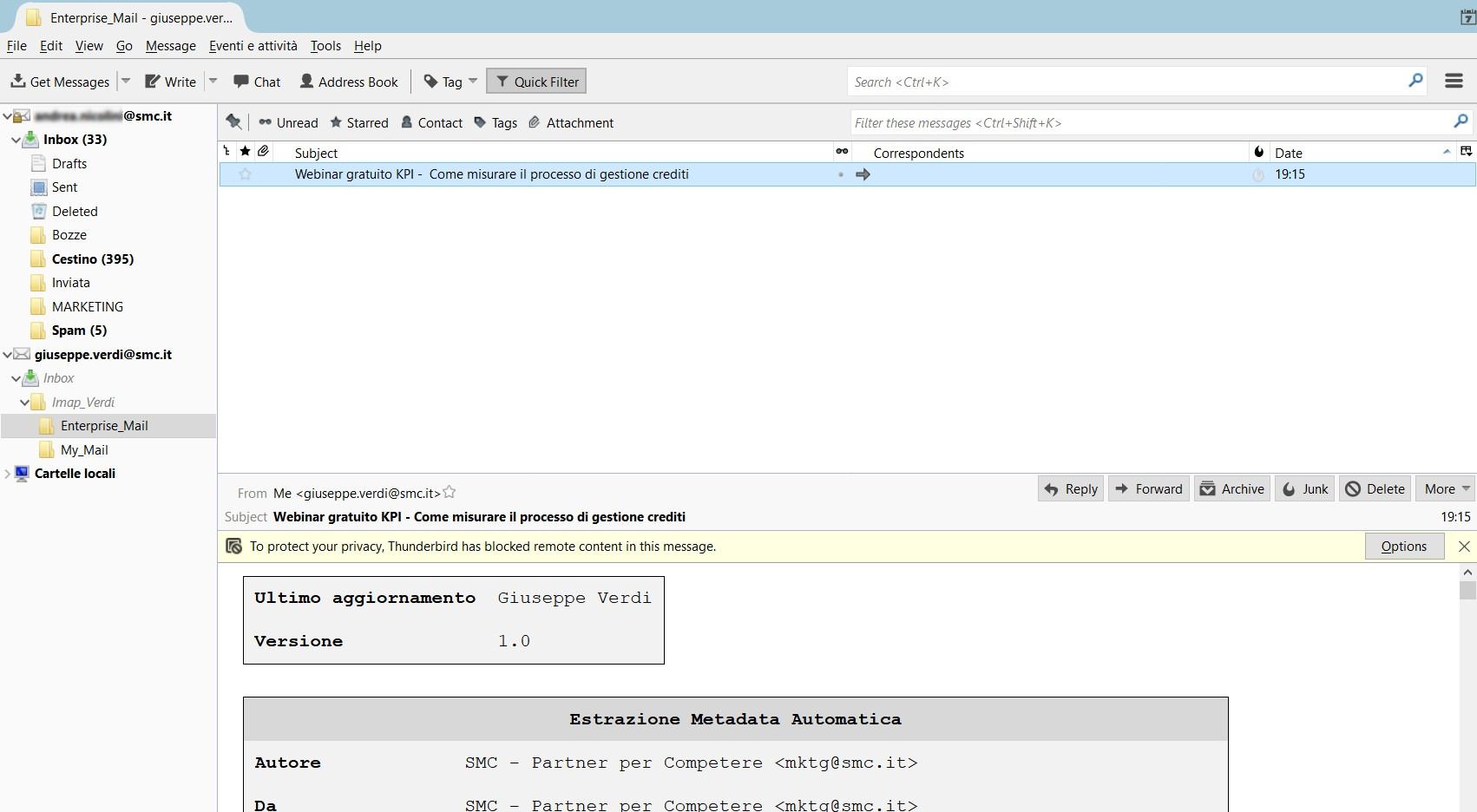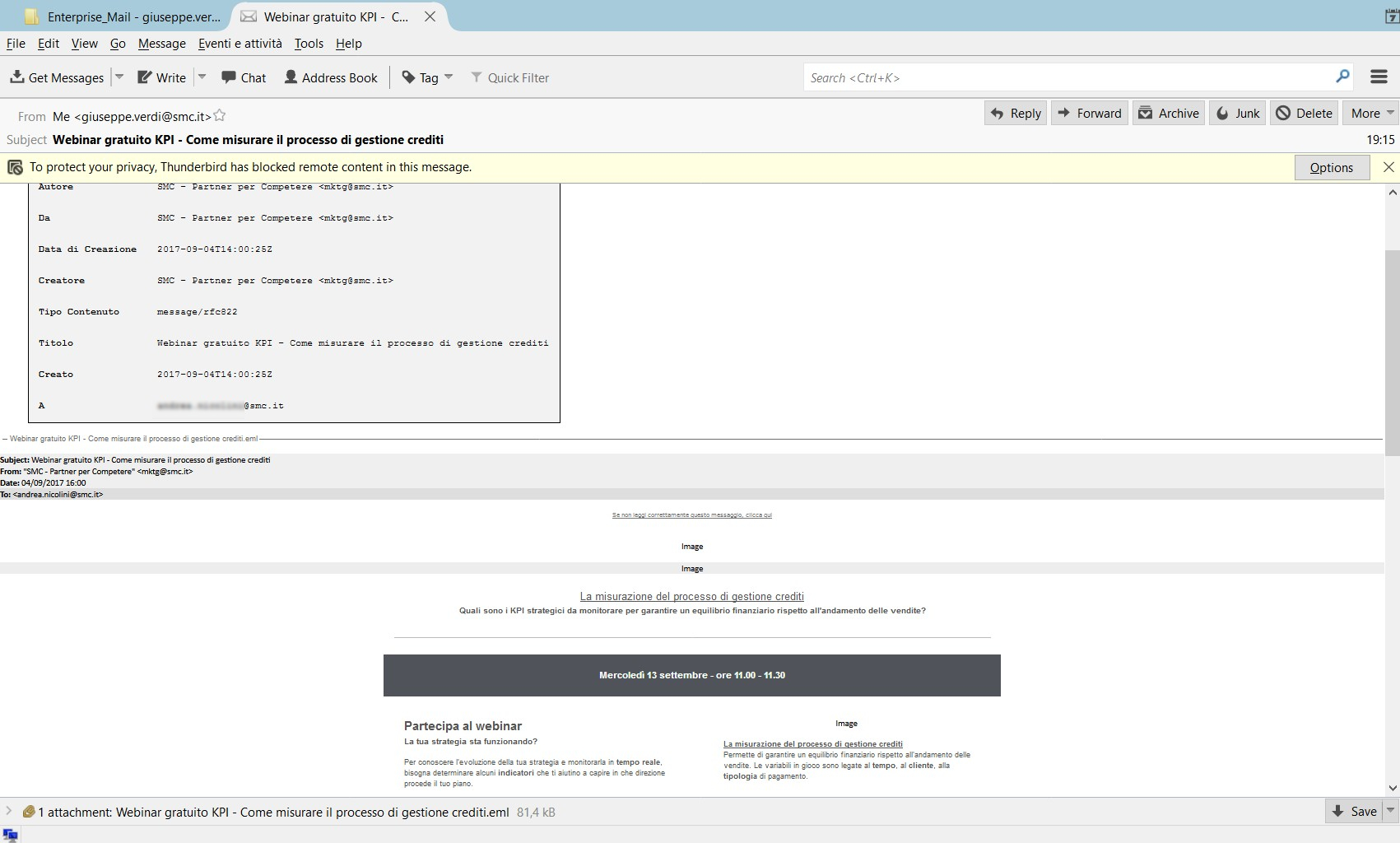 Second scenario (through a configuration task) shows documents stored inside Liferay environment into mail client. In this case the client shows the emails with metadata and the attached document.
How to install Virtual IMAP Server
Installation
Installing through Liferay Portal App Manager
Review app documentation for any specific installation instructions
Login to your Liferay Portal instance with administrative permissions
Navigate to Control Panel, then Purchased Apps
Click install
Installing App manually
Login to Liferay.com
Navigate to Account Home, then Apps
Click the Project for which the app was purchased for
Click the app
Find the file for your desired Liferay Portal version, then click the App button
Review the app documentation for any specific installation instructions
Drop file into the deploy folder